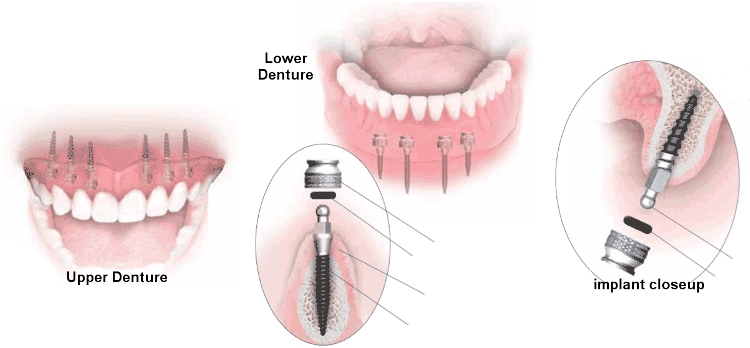 In our last post we went over the details, what makes a good candidate, pitfalls and misconceptions for conventional implants. Now we can dive into the world of mini implants!
We'll start from the ground level – what are mini implants?  Mini implants are like traditional implants but usually smaller in diameter.
Pros of using Mini Implants:
Most commonly, there is no need for bone grafts
Usually the surgery can be completed in one sitting and can allow the patient to resume normal chewing by the afternoon
Less general discomfort, since the surgery is less invasive and less disturbance to the gum and bone, generally, over the counter medication, if at all, can be used to alleviate any discomfort
Can prevent facial collapse as the mini implant is fixed in your jawbone like a tooth root
Confidence with dentures, as mini implants fix your dentures into place, they feel completely snug and do not allow for 'slippage' or sliding in the mouth.  No longer are the days of reapplying denture adhesive every hour!
A great, long-term solution for denture stabilization
The process is as follows, with the use of diagnostic imaging, extensive planning for how and where the mini implant will be placed begins.  The more foundational work/pre-planning that is done, the higher the success rate is for the mini implant.  At Goldstein Dental, we use our top of the line Conebeam CT scanner and other forms of imaging to figure the absolute best way to place your implant to give it the optimum chance at success.  Here is an example of pre-placing a dental implant in one of our patients with the use of our Conebeam CT scanner through it's corresponding Galileos 3D program: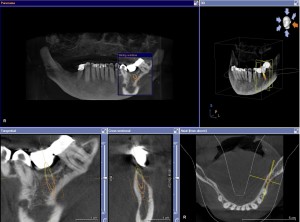 After the placement of the mini implants has been decided, Dr. Goldstein marks the locations of the mini implants on the ridge and then drills a small pilot hole into the tissue and then the mini implants are inserted and then tightened into place with a series of small wrenches and drivers.  This is in comparison to the need for flap tissue surgery and longer typical healing time found with conventional implants.  After the implants are placed, the dentures can then be "snapped" into place with the implementation of metal housings to the denture which allow it to snap onto the o-ball shaped heads of the mini implants.  As this surgery is minimally-invasive and patient's current dentures can typically be fitted to be used, mini implants are usually more affordable than conventional implants.
Post completion of mini implants, it is imperative for the patient to practice good hygiene habits, especially with diligent brushing.  Sometimes with patients who are used to conventional dentures that might possess dexterity issues, it is helpful to purchase an electric toothbrush to alleviate the troubles encountered with manual toothbrushes and provides a more necessary, full cleaning.  Plaque can build up on implants just as it does on normal teeth and it is important to maintain a regular habit of brushing away the plaque as one would with teeth.  O-rings typically do experience wear and patient's are typically advised to change them once a year.  This continues to provide the patient with the confidence they lacked with conventional dentures and allows them to eat and chew foods such as apples, steak, corn on the cob, etc.
To see if you are a candidate or think mini implants might be the right fit for you, call us for a free consult with our experienced team to give you the confidence, security and life you've been missing out on, (716) 635-4720 today!