Tired of not grinning ear to ear in pictures because of missing teeth?  Find yourself talking and covering your mouth to avoid people seeing your teeth?
Annoyed with your dentures slipping out while you speak or eating?  Uncomfortable with the noise they make while you're out to eat?  How about remembering where you put them after you take them out?
Time to talk about dental implants!  Goldstein Dental is your premiere state of the art facility with a family practice sense of care and well-being.  With over 15 years of experience in conventional and mini dental implants, we are your #1 destination in regards to quality, care, affordability and aesthetics.   We are confident that once you spend a day with us, you'll know you've made the best and right decision.
For information on Conventional Implants, click here.

For information on Mini Implants, click here.
Dental implants are a popular and effective way to replace missing teeth and are designed to blend in with your other teeth. They are an excellent long-term option for restoring your smile. In fact, the development and use of implants is one of the biggest advances in dentistry in the past 40 years. Dental implants are made up of titanium and other materials that are compatible with the human body. They are posts that are surgically placed in the upper or lower jaw, where they function as a sturdy anchor for replacement teeth.
At Goldstein Dental, with CT Cone Beam technology, a complete 3-D scan to place your implant to an astonishing degree of accuracy.  While other general dentists may send patients to specialists to obtain this type of scan and for surgery, here at Goldstein Dental, we are your one stop shop!  Dr. Goldstein will take your scan, place your implant and can also make your crown in-house.  Benefits include: not jumping from office to office, not worrying about if specialists take your insurance, accuracy of your implant and added success rate, and the comfortability of knowing your dentist.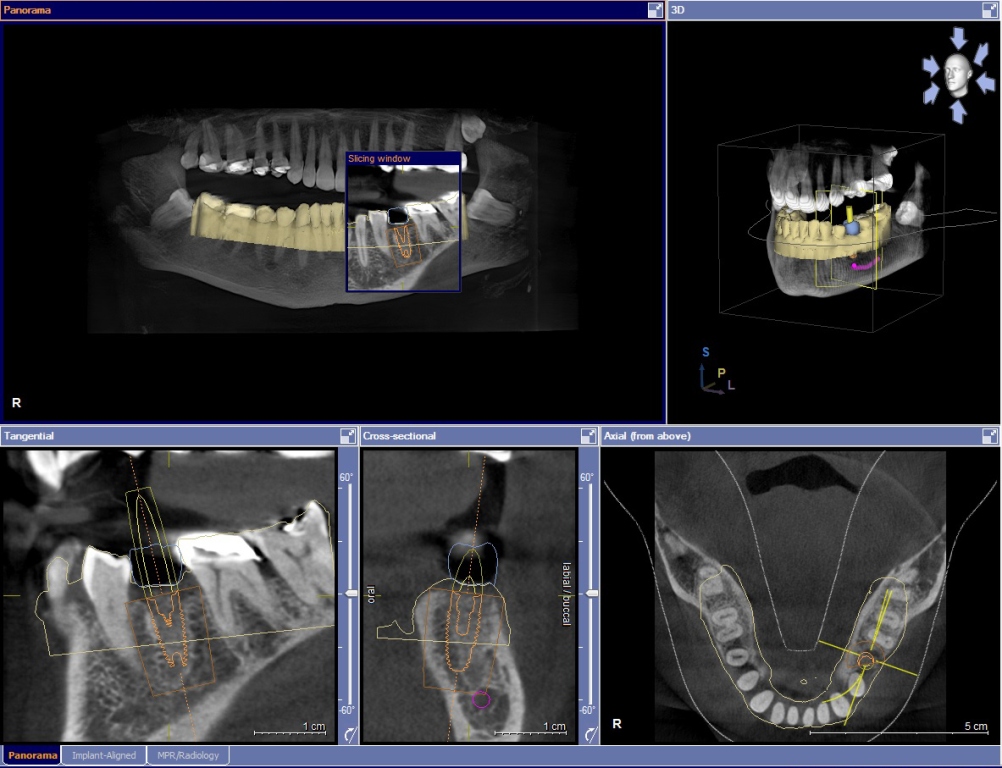 Most patients find that a dental implant is secure, stable and a good replacement for their own tooth. There are generally three phases to getting an implant:
First, Dr. Goldstein surgically places the implant into the jawbone. Your dentist may recommend a diet of soft foods, cold foods and warm soup during the healing process.
Next, the bone around the implant heals in a process called osseointegration. What makes an implant so strong is that the bone actually grows around it and holds it in place. Osseointegration means "combines with the bone" and takes time. Some patients might need to wait until the implant is completely integrated, up to several months, before replacement teeth can be attached to the implant. Other patients can have the implants and replacement teeth placed all in one visit.
Finally, it's time for the placement of the artificial tooth/teeth. For a single tooth implant, Dr. Goldstein will customize a new tooth for you, called a dental crown. The crown will be based on size, shape, color and fit, and will be designed to blend in with your other teeth. If you are replacing more than a single tooth, custom-made bridges or dentures will be made to fit your mouth and your implants. (Note: The replacement teeth usually take some time to make. In the meantime, your dentist may give you a temporary crown, bridge or denture to help you eat and speak normally until the permanent replacement is ready.)
If you are in good general health this treatment may be an option for you. In fact, your health is more of a factor than your age. You may be medically evaluated by a physician before any implant surgery is scheduled.