As of recent, conventional implants and mini implants have become extremely popular in the dental world.  As prices drop, some insurances start to cover partial costs of implants and the general population becomes more well-versed on the topic has given rise to more people asking: What's the deal with implants?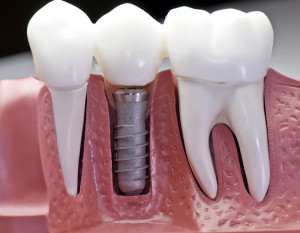 In this article, we'll speak to Conventional Implants, in Part 2 we will cover Mini Implants. First, we need to break down a few things, starting with – Am I a good candidate to get an implant?  If you are missing a tooth, due to an extraction, a tooth never coming in etc. then you are on the right track!  A good candidate, as quoted from Colgate (along with more information, click here), should have: healthy gums, enough bone to anchor the implant in the jaw (sometimes a bone graft can be done to provide more bone structure to remedy this issue), a strong commitment to take very good care of the implant and surrounding area/gums, daily brushing and flossing and regular visits to the dentist.  Dr. Goldstein looks for a patient that truly desires having back their perfect mouth, wanting their bite to be back to normal, being able to chew like normal, having their smile look normal etc. Think of your mouth like an 18-Wheeler, if one of the wheels falls off, unnecessary stress and strain are put on the other wheels (teeth) and the truck (mouth).  Movement/shifting of teeth can occur, one's bite might no longer line up correctly and teeth begin to show strain.
Benefits of implants include: they stay put and look like a real tooth – more so than dentures and bridges, they can save adjacent teeth because they don't need to be anchored to teeth next to them, preserve overall integrity of your healthy teeth, they don't make that "slipping" noise of dentures – more confidence in speaking and eating, reliability – you don't have to worry about losing them like dentures or replacing them like bridges.
For information on the procedure and information at Goldstein Dental, click here.
Common misconception of Implant Ads: Teeth in a day!! As mentioned at DearDoctor.com,
"Can you tell me more about "teeth in a day" advertisements? Some implant centers advertise "teeth in a day," implying that anyone can get their replacement teeth in one day, or even in just an hour. Unfortunately, relatively few patients are candidates and the advertising creates false expectations for the typical dental implant patient. The fact is that even the patients who qualify for this procedure do not actually receive their replacement teeth in one day. There is preliminary diagnostic work that is necessary prior to the "day" that they have treatment. And it's a very long day, for those that do qualify."
Here, we have our patients come in for a completely free and hassle-free consult with our Treatment Coordinator to evaluate your mouth and go through every possible option with you for what avenue best suits your needs both physically and financially.  Our sole purpose is to give you the smile and confidence you (and everyone!) deserve.